In its latest move from online to brick-and-mortar, Amazon is opening a tech-heavy hair salon.
We take inspiration from Amazon's approach to identify easy steps you can take to implement new tech initiatives in your business.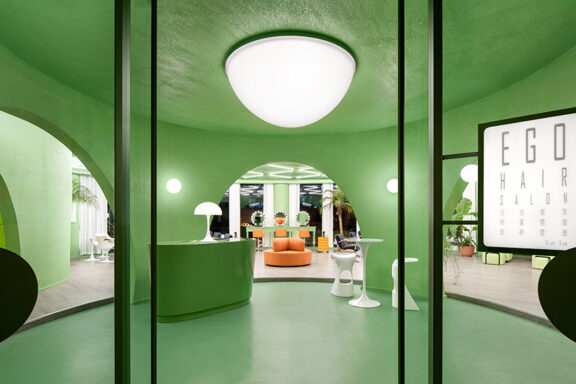 In its latest move from online to brick-and-mortar, Amazon is opening a tech-heavy hair salon in London's East End Spitalfields area where it says it will trial "the latest industry technology." This includes an augmented reality app that lets customers see what different hairstyles and colors look like on them before they decide on a change.
This is quite an unusual move for Amazon - hair salons and stylists provide a highly personalised experience, quite the opposite of Amazon's strength in mass-market sales. However, this isn't the company's first move away from online sales – it has physical bookstores in Seattle and purchased Whole Foods in 2017. Like these other ventures, the salon will be a testing ground for new technology that could be used by Amazon to continue its foray into computer vision.
Open to only Amazon employees to start with, the salon will include tablets at every chair that will utilise AR technology to allow customers to virtually "try on" hair colours, and display products with QR codes to provide more information and presumably purchase options. Time will tell whether the company is looking to develop this technology into something that can be sold onto independent salons (or other industries) or is simply testing & gathering data that could be used to replicate a similar experience online. It appears to generally signal the company's ambitions in the fashion and beauty sectors which have been sectors that Amazon has struggled to make in-roads against specialist stores.
Amazon's approach to new and developing tech is a timely reminder for brands in this changing digital world.
There are endless opportunities to use your retail stores or in-person touchpoints to test and understand how your customers respond to technology – what devices and platforms they use, if they are responsive to QR codes, how engaged they are with your retail staff, if (and what) they are googling to help in their decision-making process, and even who else they make seek advice from.
You can use this information to first, understand what gaps or manual processes currently exist in your brick-and-mortar stores that could be replaced or supported by developing technology. For example, if 20% of your customers are googling your product to get more information or see how it styled, is this something you could curate and provide via a QR code? Or could you utilise a tablet to showcase this information in a streamlined and on-brand way?
Secondly, you can use this insight to guide what technology or platforms you your attention on for your E-Commerce store. If for example, you note that people are often visiting the store after seeing your product or brand on Pinterest and have 'pinned' several images of your product, that may indicate that there is an opportunity to grow your presence on Pinterest both organically and/or using advertising. Similarly, if talking about how a certain item or garment would fit into their wardrobe, house or life, perhaps utilising augmented reality tools online would assist your customers in their decision-making process?
With new platforms and technologies being developed every day it is hard to know where to begin, what to implement, and where to spend your valuable dollars. Our advice is to listen to your customers and look to use technology to enhance how your customers are currently interacting with your brand and making purchasing decisions. Like anything, introducing the latest and greatest will only be of value if it is fulfilling the want or need of your customer.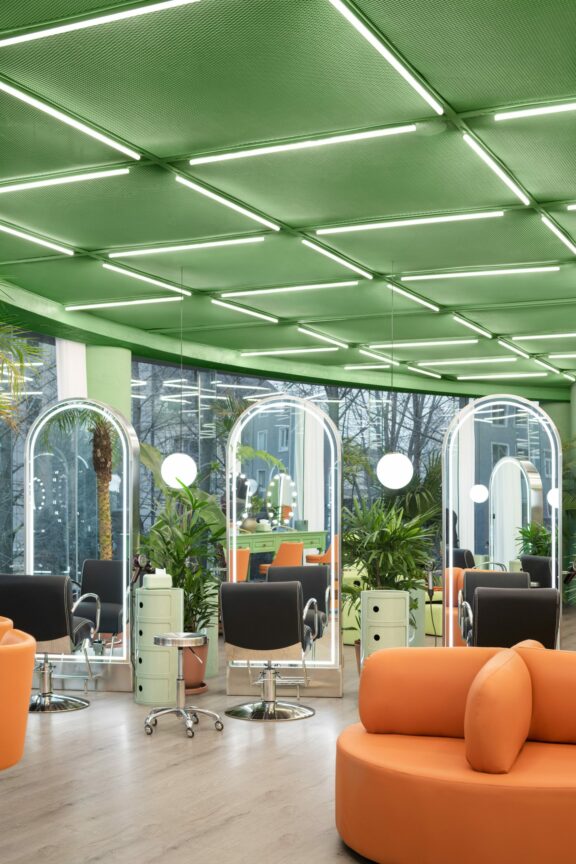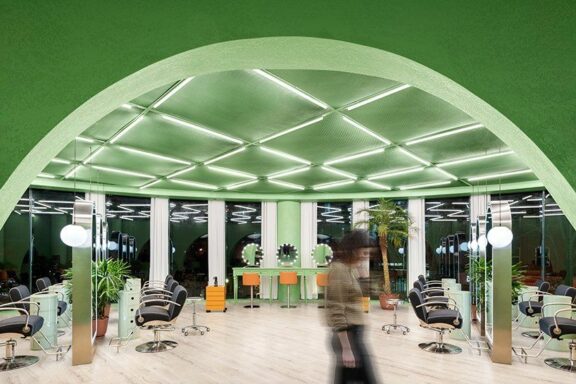 Images not of Amazon's salon. We love this futuristic-inspired hair in Beijing, Ego Salon.
Beijing-based IS Architecture and Design has created a hair and cosmetic spa in Neijing with avocado-green interiors informed by space-age design. Ego Hair Salon is located in Beijing and was designed to have a futuristic feel while also embracing the surrounding nature.
"In this project of ours, we have opted to propose a world of the future in which artifice and nature coexist in a serene and clean balance." Fabrizio Gurrado, Founder IS Architecture and Design.